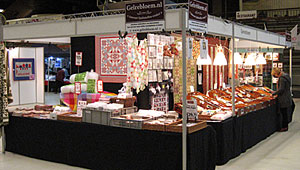 Een kraam vol met heel veel stoffen (fatquarters), boeken, patronen, vilt en benodigdheden.
Erg gezellig en het is vooral heel leuk om klanten te ontmoeten die trots hun quilts laten zien die met 'onze' stoffen gemaakt zijn. Stuk voor stuk prachtige werkstukken.
Kom langs om kennis met ons te maken.
BEURSAGENDA
---
Handig: Als U een bestelling wilt ophalen op een beurs dan kan dat. Graag bij de bestelling vermelden op welke beurs u de artikelen komt ophalen. Uw bestelling ligt dan klaar achter de stand. U hoeft dan geen verzendkosten te betalen!
---
Onze winkel op uw QuiltBee of RegioDag
We hebben hier en daar nog mogelijkheden in onze agenda om met onze stand op uw regiodag of uw quiltbee te staan.
Heeft u belangstelling neem contact met ons op!

---