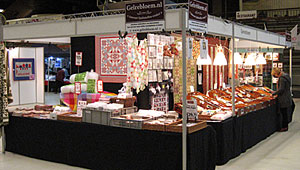 Een kraam vol met heel veel stoffen (fatquarters), boeken, patronen, vilt en benodigdheden.
Erg gezellig en het is vooral heel leuk om klanten te ontmoeten die trots hun quilts laten zien die met 'onze' stoffen gemaakt zijn. Stuk voor stuk prachtige werkstukken.
Kom langs om kennis met ons te maken.
BEURSAGENDA 2018
---
Handig: Als U een bestelling wilt ophalen op een beurs dan kan dat. Graag bij de bestelling vermelden op welke beurs u de artikelen komt ophalen. Uw bestelling ligt dan klaar achter de stand. U hoeft dan geen verzendkosten te betalen!
---
Quiltbee Elden
dinsdag 27 februari 2018
Aanvang 20.00 tot 22.00 uur.
In de grote zaal van Cafe-Restaurant "Ons Huis".
Brink 9, 6842 AT Elden
U bent van harte welkom!


---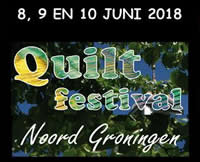 4e Quiltfestival Noord Groningen 2016
8-9-10 juni 2018
Stichting Quiltfestival Noord Groningen organiseert tweejaarlijks een 3-daags festival in gemeente Eemsmond. Het festival is dit jaar op 8, 9 en 10 juni.
Prominente quilters uit binnen- en buitenland exposeren op ruim 25 locaties, in meer dan 17 historische kerken en gebouwen op het Hoogeland van Groningen.

Hun werk is zeer gevarieerd en omvat traditionele, hedendaagse en art quilts. De intentie van het festival is, bezoekers een uiteenlopend beeld van het quilten te presenteren.
Aan het tweejaarlijks festival is een wedstrijd verbonden en een uitgebreide textielbeurs met een rijk aanbod aan stoffen, garens, vilt, boeken en tijdschriften.

Dat de combinatie van de quiltwerken, de karaktervolle locaties en het Groninger landschap gewaardeerd wordt, blijkt uit het groeiend aantal bezoekers.

Voor het Quiltfestival is dit het lustrum jaar en daarom organiseren we in samenwerking met Waddenzee Werelderfgoed en Het Quiltersgilde een grote expositie, die in het teken van Waddenzee Wereld Erfgoed staat.

Bijzonder aan de expositie is, dat niet alleen quilters, maar jong en oud worden uitgenodigd zich op creatief vlak te laten inspireren door het thema: ODE aan de WADDENZEE.
Kies uw eigen materiaal: textiel, metaal, hout, papier of anderszins. Ook schilderijen of foto's zien wij graag op deze bijzondere expositie.
Wat is mooier dan op deze expositie, naast het quilten een grote verscheidenheid aan creativiteit te ontdekken en te kunnen tonen aan een breed publiek.

Kom deze bijzondere tentoonstelling bewonderen in de evenementenhal Op Roakeldais in Warffum.

Meer info: www.quiltfestival.nl


---
Onze winkel op uw QuiltBee of RegioDag
We hebben hier en daar nog mogelijkheden in onze agenda om met onze stand op uw regiodag of uw quiltbee te staan.
Heeft u belangstelling neem contact met ons op!

---